Maggie Brooks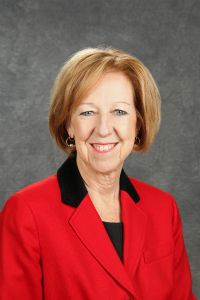 Maggie Brooks lives in Naples Lakes Country Club and has been a full-time Florida resident since 2019.
Before retirement, Maggie had a diverse 42-year career in Monroe County, New York (Rochester). She worked in government as a County Legislator, County Clerk and was elected the first woman as County Executive, a job she held for 12 years. Prior to that Maggie worked in the private sector as Vice President of Networx, overseeing programming for Companion Radio, a satellite radio network.  The bulk of her career, however, was as a news broadcaster and reporter in both radio and television. She retired in 2019 from the Rochester-Genesee Regional Transportation Authority, where she was an Executive Vice-President.
Maggie is a past President of the New York State County Executives Association, the New York State Association of Counties and the County Executives of America. She was a member of the Rochester Rotary and Honorary Chair of the New York State Special Olympics in 2019-2020.
Maggie is on the board of the Ladies 9-Hole Golf Association in Naples Lakes. She also plays Mahjongg, is a member of Ladies of Naples Lakes and is on the committee for the NLCC/Home Base golf tournament, which raises money for SWFL veterans and their families.
She and her husband Bob Wiesner have four adult children, two grandchildren. They attend St Peter the Apostle Church in Naples.